Komatsu bandgrävare PC360LCi-11 har låga driftskostnader, är servicevänlig och har förstklassig komfort. Komatsu miljövänliga bandgrävare är enkla att använda med maximal effektivitet, marknadsledande kvalité och stabilitet. Det är därför Komatsu bandgrävare är bland de bäst säljande hydrauliska grävmaskinerna i världen.Vår avgasrening är så tillförlitlig att vi ger 5 år eller 9000 timmars garanti på efterbehandlingssystemen.
The unique benefits of the new Komatsu PC360LCi-11 combine the high productivity of a bulk earthmoving excavator with the renowned accuracy of Komatsu intelligent Machine Control. This is achieved by powerful hydraulics and breakout forces when excavating, fast cycle times when truck loading, and by completing grading automatically in just one pass. Fewer machine cycles are required and operator performance is improved, with vastly reduced risk of re-work, lower fuel costs and increased machine utilisation.
Teknisk information
Motoreffekt 202/271 kW/HP
Skopkapacitet 2,66 m³
Maximalt grävdjup 7,28 m
Arbetsvikt 35,6-36,2 t.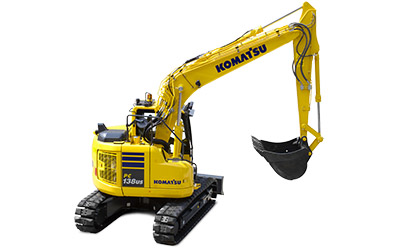 Motoreffekt 72,6/97,3 kW/HP
Skopkapacitet 0,72 m³
Maximalt grävdjup 5,90 m
Arbetsvikt 13,90-14,80 t.
read more